Benue State Post Code «» Benue State Zip Code. Below are the postal codes / zip codes for cities and towns in Benue State, Nigeria.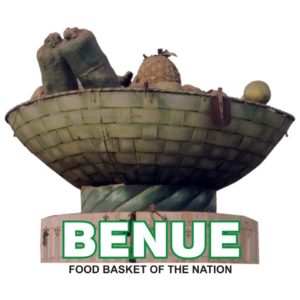 Benue State is a state in north-central Nigeria created on 3 February, 1976 (Benue State was formed from the former Benue-Plateau State), it borders Nasarawa State to the north, Taraba State to the east, Cross-River State to the south, Enugu State to the south-west and Kogi State to the west. The state also shares a common boundary with the Republic of Cameroon in the southeast. Its capital is Makurdi.
SEE ALSO: Benue State Post Offices: Full List & Address.
Benue State is nicknamed "Food Basket of the Nation" as a result of its competitive advantage in agriculture. The state produces 70% of Nigeria's Soybean and it's the largest producer of fruit concentrate and cassava in Nigeria.
Benue State Snapshot:
Total land area: 30,800 Km2
Capital: Makurdi
Local Government Areas: 23 LGAs: Ado, Agatu, Apa, Buruku, Gboko, Guma, Gwer, Gwer-West, Katsina-Ala, Konshisha, Kwande, Logo, Makurdi, Obi, Ogbadibo, Ohimini, Oju, Okpokwu, Otukpo, Tarka, Ukum, Ushongo, Vandeikya.
Population: 6,096,869 (Male- 3,109,403 and Female- 2,987,466)
Vegetation: Rain forest and Guinea savannah
Major crops: Yams, Rice, Beans, Cassava, Potatoes, Maize, Soya Beans, Sorghum, Millet, Cocoyam, Sesame, Melon, Groundnut, Tomato.
Solid minerals: Kaolin, Limestone, Barytes, Gemstone, Gypsum, Feldspar, Wolframite
Benue State Post Code / Zip Codes
Click on the link representing the location you wish to look-up in Benue State to reveal its postal code / zip code:
Makurdi City Postal and Zip Codes
Otukpo City Postal and Zip Codes
Share: