Katsina State Post Code «» Katsina State Zip Code. Below are the postal codes / zip codes for cities and towns in Katsina State, Nigeria.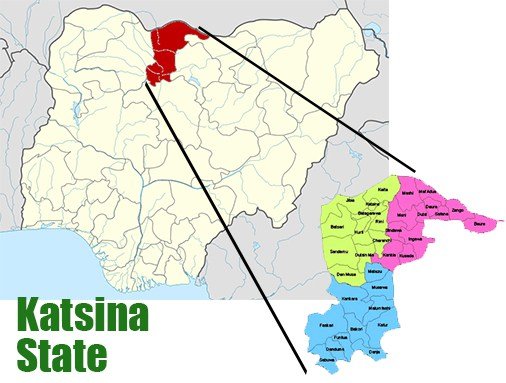 Katsina State is a state in north-western Nigeria created on 23 September 1987 (Katsina State was formed from part of Kaduna State); it borders Kaduna State to the south, Niger Republic to the north, Kano and Jigawa States to the east and Zamfara State to the west. Its capital is Katsina.
SEE ALSO: Katsina State Post Offices: Full List & Address.
Katsina State is nicknamed "Home of Hospitality'', and it is the largest cotton producer in the country.
Katsina State Snapshot:
Total land area: 23,561 Km2
Local Government Areas: 34 LGAs: Bakori, Batagarewa, Batsari, Baure, Bindawa, Charanchi, Dan Musa, Dandume, Danja, Daura, Dustin – Ma, Dutsi, Faskari, Funtua, Ingawa, Jibia, Kafur, Kaita, Kankara, Kankia, Katsina, Kurfi, Kusada, Mai'adua, Malumfashi, Mani, Mashi, Matazu, Musawa, Rimi, Sabuwa, Safana, Sandamu, Zango.
Population: 8,315,581 (Male- 4,240,946 and Female- 4,074,635)
Vegetation: Tropical Savannah
Major crops: Cotton, Sorghum, Sugarcane, Tomato, Soybean, Onion.
Solid minerals: Basalt, Diamonds, Feldspar, Granite, Graphite, Gold, Iron-Ore, Kaolin, Manganese, Nickel, Uranium.
Katsina State Post Code / Zip Codes
Click on the link representing the location you wish to look-up in Katsina State to reveal its postal code / zip code:
Katsina City Postal and Zip Codes
Funtua City Postal and Zip Codes
Daura City Postal and Zip Codes
Share: