Imo State Post Code «» Imo State Zip Code. Below are the postal codes / zip codes for cities and towns in Imo State, Nigeria.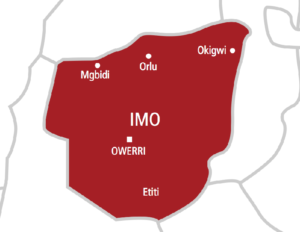 Imo State is a state in south-eastern Nigeria created on 3 February 1976; it borders Rivers State to the south, Anambra State to the north, Abia State to the east and River Niger and Delta State to the west. Its capital is Owerri.
SEE ALSO: Imo State Post Offices: Full List & Address.
Imo State nicknamed the Heartland of Eastern Nigeria, has the largest palm plantation complex in West Africa.
Imo State Snapshot:
Total land area: 5,288 Km2
Local Government Areas: 27 LGAs: Aboh Mbaise, Ahiazu Mbaise, Ehime Mbano, Ezinihite-Mbaise, Ideato North, Ideato South, Ihitte/Uboma, Ikeduru, Isiala Mbano, Isu, Mbaitoli, Ngor-Okpala, Njaba, Nkwerre, Nwangele, Obowo, Oguta, Ohaji/Egbema, Okigwe, Onuimo, Orlu, Orsu, Oru East, Oru West, Owerri Municipal, Owerri North, Owerri West.
Population: 5,766,234 (Male- 2,940,779 and Female- 2,825,455)
Vegetation: Tropical Savannah and Mansoon.
Major crops: Palm Oil, Yam, Cassava, Cocoyam and Maize.
Solid minerals: Rock Salt, Phosphate, Lignite, and Clay.
Imo State Post Code / Zip Codes
Click on the link representing the location you wish to look-up in Imo State to reveal its postal code/zip code:
Owerri Municipal / City Postal and Zip Codes
Orlu City Postal and Zip Codes
Okigwe City Postal and Zip Codes
Share: