Rivers State Post Code «» Rivers State Zip Code. Below are the postal codes / zip codes for city and towns in Rivers State, Nigeria.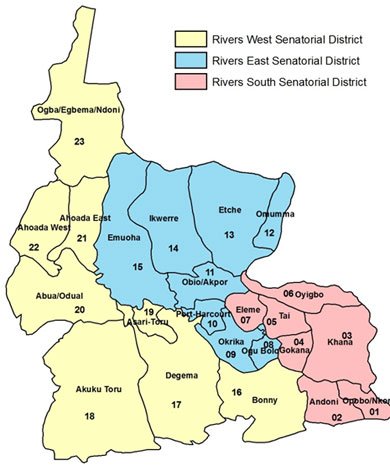 Rivers State, also known simply as Rivers, is a state in the south south region of Nigeria and was formed in 1967. Rivers State is bounded on the South by the Atlantic Ocean, to the North by Imo, Abia and Anambra States, to the East by Akwa Ibom State, and to the West by Bayelsa and Delta states. Its capital is Port Harcourt.
Rivers State is nicknamed the "Treasure Base of the Nation" is on Nigeria's coastline and has a number of seaports. 
SEE ALSO: Rivers State Post Offices : Full List & Address.
Rivers State Snapshot:
Total land area: 10,575 Km2
Local Government Areas: 23 LGAs: Port-Harcourt, Obio-Akpor, Okrika, Ogu-Bolo, Eleme, Tai, Gokana, Khana, Oyigbo, Opobo-Nkoro, Andoni, Bonny, Degema, Asari-Toru, Akuku-Toru, Abua-Odual, Ahoada West, Ahoada East, Ogba-Egbema-Ndoni, Emohua, Ikwerre, Etche and Omuma.
Population: 7,817,866 (Male- 3,987,112 and Female- 3,830,755)
Vegetation: Tropical Rainforest and Monsoon.
Major crops: Cassava, Rubber, Oil Palm, Coconut, Raffia Palm, Rice, Yam, Maize, Watermelon and Vegetables.
Mineral Resources: Crude oil, Silica, Glass Sand and Clay.
Rivers State Post Code / Zip Codes.

Click on the link representing the location you wish to look-up in Rivers State to reveal its postal code / zip code:
Share: