Edo State Post Code «» Edo State Zip Code. Below are the postal codes/zip codes for cities and towns in Edo State, Nigeria.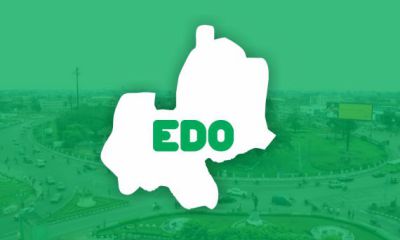 Edo State is a state in the south-south region of Nigeria, created on 27 August 19991, it borders Kogi State to the northeast and east, Anambra State to the east, Delta State to the southeast and south, and Ondo State to the west and northwest. Its capital is Benin City.
SEE ALSO: Edo State Post Offices: Full List & Address.
Edo State is referred to as the "heartbeat of Nigeria", and it is also endowed with a wide variety of mineral resources, arable land for cash crops and largest oil palm yields in Nigeria.
Edo State Snapshot:
Total land area: 19,187 Km2
Local Government Areas: 18 LGAs: Akoko-Edo, Egor, Esan Central, Esan North-East, Esan South-East, Esan West, Etsako Central, Etsako East, Etsako West, Igueben, Ikpoba-Okha, Oredo, Orhionmwon, Ovia North-East, Ovia South-West, Owan East, Owan West and Uhunmwonde.
Population: 4,470,605 (Male- 2,280,008 and Female- 2,190,596)
Vegetation: Tropical Savannah and Monsoon.
Major crops: Rubber, Oil Palm, Cassava, Rice, Cocoa, Banana and Cashew.
Mineral Resources: Crude oil, Limestone, Granite, Quartz, Marble, Gold and Rubber.
Edo State Post Code / Zip Codes
Click on the link representing the location you wish to look-up in Edo State to reveal its postal code / zip code:
Benin City Postal and Zip Codes.
Ubiaja City Postal and Zip Codes.
Share: