Taraba State Post Code «» Taraba State Zip Code. Below are the postal codes / zip codes for city and towns in Taraba State, Nigeria.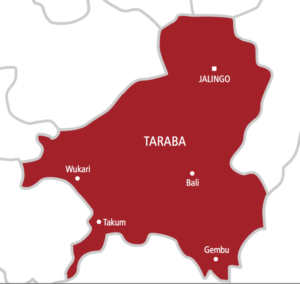 Taraba State is a state in northeastern Nigeria, named after the Taraba River and was created out of the former Gongola State on 27 August 1991. Taraba State is bounded in the West by Nasarawa and Benue States, Northwest by Plateau State, North by Bauchi State and Gombe State, Northeast by Adamawa State, East and South by the Republic of Cameroon. Its capital is Jalingo.
The state is nicknamed "Nature's gift to the nation" because it is rich in culture and minerals as well as many ethnic groups.
Taraba State Snapshot:
Total land area: 56,282 Km2
Local Government Areas: 16 LGAs: Ardo Kola, Bali, Donga, Gashaka, Gassol, Ibi, Jalingo, Karim Lamido, Kurmi, Lau, Sardauna, Takum, Ussa, Wukari, Yorro, and Zing.
Population: 3,249,970 (Male- 1,657,485 and Female- 1,592,485)
Vegetation: Tropical Savannah & Subtropical high land
Major crops: Millet, Sorghum, Maize, Cassava, Groundnut, Rice, Yam, Gum Arabic, Sugarcane and Cotton.
Solid minerals: Baryte, Diamond, Talc, Agates, Amethyst-Quatz, Barite, Cassitterite, Calcite, Bentolitic Clay, Bauxite, Galena, Gold, Flourite, Graphite, Quartz, Rutile, Uranium, Topaz, Sapphire, Zircon, Zinc Ore.
SEE ALSO: Taraba State Post Offices : Full List & Address.
Taraba State Post Code / Zip Codes.

Click on the link representing the location you wish to look-up in Taraba State to reveal its postal code / zip code:
Share: