Plateau State Post Code «» Plateau State Zip Code. Below are the postal codes / zip codes for city and towns in Plateau State, Nigeria.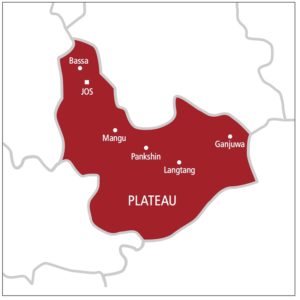 Plateau State is a state located in Nigeria's middle belt (loosely known as North Central). Its capital is Jos. The state is named after the picturesque Jos Plateau, a mountainous area in the north of the state with captivating rock formations. It is adjacent to Bauchi State to the Northeast, Kaduna to the Northwest, Nasarawa State to the South West, and Taraba State to the South East.
Plateau State is nicknamed "Home of Peace and Tourism".
SEE ALSO: Plateau State Post Offices : Full List & Address.
Plateau State Snapshot:
Total land area: 27,147 Km2
Capital: Jos
Local Government Areas: 17 LGAs: Jos North, Jos South, Jos East, Bassa, Kanam, Barakin Ladi, Quai'an-Pam, Wase, Langtang North, Langtang South, Pankshin, Shendam, Riyom, Mikang, Kanke, Mangu and Bokkos.
Population: 4,433,501 (Male- 2,261,086 and Female- 2,172,416)
Vegetation: Tropical Savannah
Major crops: Maize Guinea Corn, Cassava, Yam, Grain, Cow Peas, Rice, Fonios Acha, Monumental Crops, Mango, Straw Berries, Flowers. Vegetables, Tomatoes, Onion, Cabbage, Carrot, Cucumber.
Solid minerals: Tin, Columbite, Lead, Coal, Clay, Kaolin, Marble, Gemstone, Barytes and Zinc.
Plateau State Post Code / Zip Codes
Click on the link representing the location you wish to look-up in Plateau State to reveal its postal code / zip code:
Share: